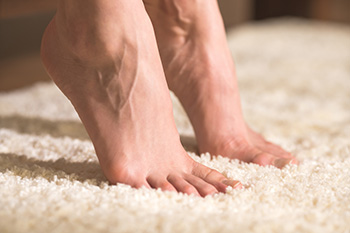 The bones in your toes are called phalanges, consisting of two or three segments, depending on the toe. These toe bones connect to the metatarsals in your foot through joints with cartilage that allows for smooth movement. Further, the body produces a fluid known as synovium to lubricate these joints and facilitate ease of motion. While toes lack muscles, the tendons and ligaments connect them to muscles in your foot and legs, allowing for movement. Over time, factors like extended standing, running, or ill-fitting shoes can cause toe misalignment. Toe exercises are effective in realigning them, alleviating discomfort, and enhancing overall foot health. Cramped toes can be quite uncomfortable and painful. Stretching exercises help in relaxing your toes, and relieving tension and discomfort. Toe stretches enhance their flexibility, making them more adaptable and less prone to stiffness. Toe exercises also stimulate increased blood flow, which can effectively alleviate pain and reduce swelling. Flexible toes are less susceptible to injuries, making toe exercises essential to injury prevention. If you have toe pain that inhibits your daily activities, it is suggested that you make an appointment with a podiatrist. 
Exercising your feet regularly with the proper foot wear is a great way to prevent injuries and build strength. If you have any concerns about your feet, contact Steven Wolfington, DPM from Sheboygan Foot Care, LLC. Our podiatrist can provide the care you need to keep you pain-free and on your feet.
Exercise for Your Feet
Exercise for your feet can help you gain strength, mobility and flexibility in your feet. They say that strengthening your feet can be just as rewarding as strengthening another part of the body. Your feet are very important, and we often forget about them in our daily tasks. But it is because of our feet that are we able to get going and do what we need to. For those of us fortunate enough to not have any foot problems, it is an important gesture to take care of them to ensure good health in the long run.

Some foot health exercises can include ankle pumps, tip-toeing, toe rises, lifting off the floor doing reps and sets, and flexing the toes. It is best to speak with Our podiatrist to determine an appropriate regimen for your needs. Everyone's needs and bodies are different, and the activities required to maintain strength in the feet vary from individual to individual. 
Once you get into a routine of doing regular exercise, you may notice a difference in your feet and how strong they may become.
If you have any questions please feel free to contact our office located in Sheboygan, WI . We offer the newest diagnostic and treatment technologies for all your foot and ankle needs.
Read more about Exercise for Your Feet